ETMA Virtual Conference
Join ETMA December 2 for a Virtual Conference with two Virtual Breakouts and a dynamic guest speaker.
It will preview of our San Diego January conference themes:
What does the Future Hold?
Where are enterprises headed in the future?
Where is our market headed in the future?
"The pandemic has changed the B2B buying landscape forever. Did you know that now, only 20% of sales decisions are made based on product or price? That means the content message and the customer experience is more important than ever. Fortunately, there is a formula to impressing buyers and leaving a lasting impression when you reach out to them. I should know, I spent 18 years buying services for giants like Pepsi, Pizza Hut and Frito-Lay. Now, I teach small business owners how to sell to them."
Our keynote speaker, Chala Dincoy, will address
What Corporate Buyers Want in 2022?
In this hands-on, dynamic session, you'll:
Learn the top 5 things that corporate buyers want in 2022
Find out how to pick a differentiator that will have the buyers' attention at "hello"
Learn about and brainstorm live about a marketing tool that has a 97% higher ROI vs. other marketing strategies.
*Source: https://www.qualified.com/blog/b2b-buyer-trends-for-2021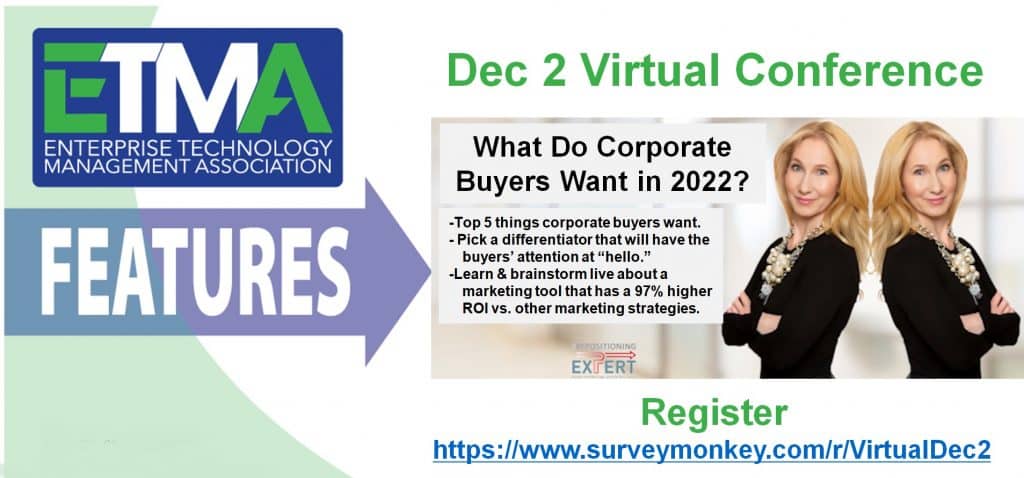 Chala Dincoy is the CEO and Founder of The Repositioning Expert, www.repositioner.com.
She's a Marketing Strategist who helps B2B service providers reposition their marketing message to successfully sell to corporate clients.
She's a successful entrepreneur, and the author of 4 books including Gentle Marketing: A Gentle Way to Attract Loads of Clients. Chala's also an expert featured on major television networks such as ABC, NBC, CBS, Fox, as well as a frequent speaker at Nasdaq, Harvard Club of Boston and International Business Conferences.
Register today https://www.surveymonkey.com/r/VirtualDec2