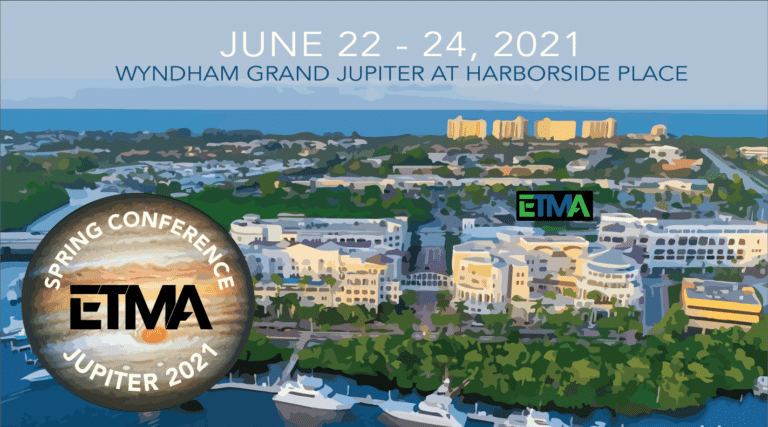 ETMA Spring Conference 2021 – Thank You!
The next ETMA conference will took place Tuesday, June 22 thru Thursday, June 24 at the Wyndham Grand Harborside Place in Jupiter Florida. We had a "Who's Who" from the industry already registered with nearly everyone from large and small firms attending. It was great to see old friends and many new people as we meet to discuss the current state of the market and vision for the Enterprise Technology Management industry.
The conference featureds a packed agenda, pre- and post-conference activities including elective activities: golf at the PGA National "Champ" course, Spa treatments, fishing and so much more.
Conference Highlights
Hardware as a Service… time to rethink this as more potential clients seek it out.
Panel: What are Enterprise customer looking for with regard to sales engagement going forward? Are onsite client visits history? What is the impact of Virtual Sales?
TEM Service Offerings: What is a commodity? What is truly next-generation?
Networking Team Challenge: What positive things did you learn about your organization during the pandemic? What new skills or capabilities did your organization develop?
Merger and Acquisitions: The Sale of Your Business: How Much Is My Business Worth Today? The opportunity cost of delaying your sale; The economy and the 2021-2022 recovery.
Special guests: The Honorable Todd Wodraska the Mayor of Jupiter on his Telemedicine Tech initiative and…
Endpoint Management: Who changed my value proposition? Programs to get devices back; Reverse logistics/forward logistics.
New Business Opportunities .
Past Attendee Comments
"This is always a great group and meeting."
"Psyched to see so many people participating. I'm slightly blown away. "
"Welcome all newcomers!"
"Awesome!"
"Love this!"
"This really is a lot more than I expected."
"This group never fails to impress."
"Excellent touchpoints. Great day."
Learn more and register for the Winter 2022 Conference in San Diego