Leaders Seek to Broaden Scope and Improve Results for All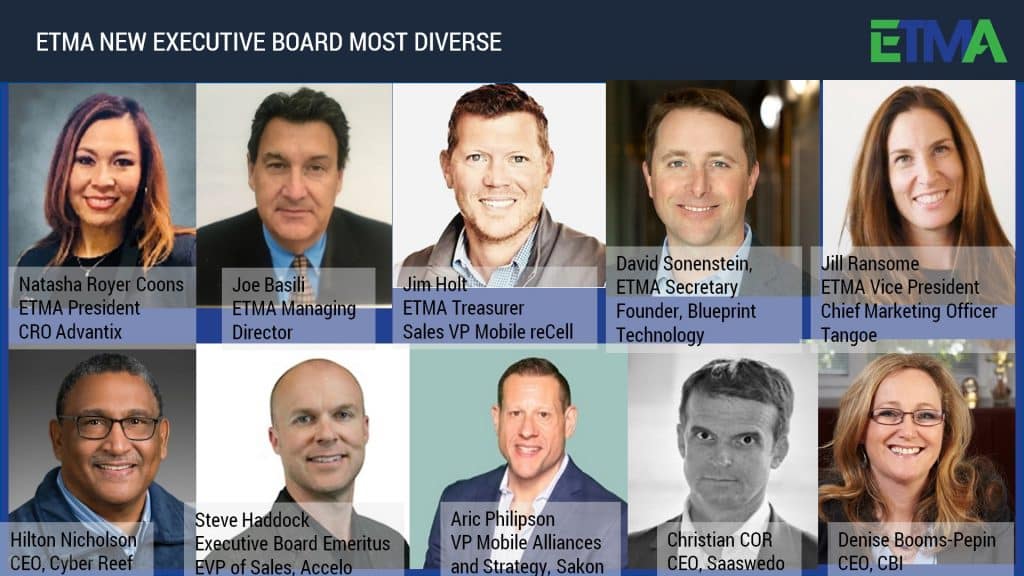 ETMA, the Enterprise Technology Management Association, members, at its recent conference in Jupiter, Florida, attained an important new milestone with its most diverse executive board ever. This includes the selection of Jill Ransome as Vice President; Jim Holt as ETMA Treasurer, At-Large Executive Board officer, Hilton Nicholson, and re-elected David Sonenstein who will serve as Secretary.
ETMA is an independent non-profit association established by Solutions Providers for Solutions Providers. Solutions Providers set the agenda and priorities for ETMA. They also ensure that all actions are designed to serve member companies, not to profit from them.
ETMA's Executive Board is critical to driving greater levels of success for the organization and helping to promote the industry. In addition, the executive board works to support the organization's mission:
Help members grow through a network of ecosystem partners, sales channel expansion, and alliance partnerships.
Grow the size of the Enterprise Technology Management market.
Promote the industry to enterprises, carriers and analysts.
Foster ongoing performance improvement through open industry standards and best practices.
Promote fair, ethical business practices to ensure a positive industry image, and take action on ethics complaints.
Jill Ransome, ETMA Vice President and Chief Marketing Officer for Tangoe, said, "For the past two years, I've watched ETMA grow as a trusted voice in the industry – providing valuable insight and meaningful guidance on a rapidly-changing marketplace. The organization has been critical in bringing people together with the right tools and best practices to move us all forward. During my time at Tangoe, we've also worked hard to build tested strategies and processes that deliver measurable business benefits across the Technology Expense Management industry. As one of the newest members of the ETMA Board, I greatly look forward to sharing and promoting these proven methodologies – helping companies unlock their keys to success."
Jim Holt, ETMA Treasurer and Vice President of Sales for Mobile reCell said, "With over five years of active ETMA membership and two years of committee participation, I am thrilled to join the ETMA Executive Board as Treasurer. Fiscal responsibility for a non-profit organization is a top commitment. As a sales leader, I will drive fiscal strength; grow our membership; support recruitment of Managed Service Providers, Carriers, Solutions Integrators, UEM, OEM, Cloud Service Providers and other important market segments. ETMA propels members towards cutting-edge solutions, strategic growth, and quality services. Further, ETMA provides a collaborative atmosphere for members to compare notes."
David Sonenstein, ETMA Secretary and Blueprint Technology founding Partner said, "I am honored to be reelected for my third term on the ETMA executive board and look forward to keeping the growth momentum going for this outstanding group of business and thought leaders."
Hilton Nicholson, ETMA At Large Board Member and CEO of CyberReef said, "It is an honor and I am excited to contribute as new member of ETMA Board of Directors. CyberReef is a mobile cloud firewall company and not the "traditional" membership of ETMA. It is a forward-looking association. I support the strategy and recruitment efforts, of "non-traditional" members like CyberReef. This includes broadening the scope to include adjacent or complimentary technologies and companies. The inclusionary and innovative culture of ETMA is why I am excited to be part of its Board of Directors."
Additional Board Members include:
Natasha Royer Coons, Chief Revenue Officer of Advantix as ETMA President.
Aric Philipson, Vice President Mobile Alliances and Strategy for Sakon .
Denise Booms-Pepin CBI and GTEM™ Solutions, CEO.
Christian Cor, CEO of Saaswedo.
Steve Haddock, ETMA Executive Board Emeritus.
About ETMA
ETMA, the Enterprise Technology Management Association is a non-profit organization with approximately 60 members managing over $71 Billion in enterprise expenses. Its ongoing mission is to help members grow through a network of ecosystem partners, sales channel expansion, and alliance partnerships; raise awareness of the industry; foster industry growth, improve the quality and value of solutions, and establish industry standards. Further, ETMA members subscribe to a Code of Ethics, which clearly establishes standards and differentiates their level of commitment to their clients. ETMA does not sell consulting services or solutions.
Members provide solutions for enterprises in: Enterprise Technology Management, Technology and Telecom Expense Management (TEM), Carrier Services, Managed Services, Expense Management, Telecommunications Management, Mobile Expense Management, Managed Mobility Services (MMS), Mobile Device Management (MDM), Enterprise Mobility Management (EMM) Solutions, Solutions Integration, Cloud Services, Bill Pay, and other adjacent areas.
Learn more about ETMA online at https://etma.org
Twitter: JoinETMA
LinkedIn Group: https://www.linkedin.com/groups/12094974