Customer
Large, multi-national network communications company in search of reduced costs for telecom and IT expenses.
Challenges
The company provides its customers resources to help deploy and maintain next-generation networks. In 2000, the company realized that their telecom expenses were excessive and a comprehensive approach to managing technology expenses and aligning expenditures with organizational needs was required.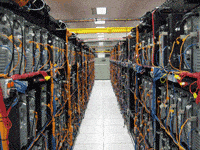 Solution
The company chose to outsource Telecom Expense Management (TEM) and IT services under Business Process Outsourcing (BPO) and align its telecom expenses with corporate needs and outsource other non-core tasks related to telecom management.
Utilize an on-site Service Management portal for streamlined procurement, inventory control and policy enforcement. Deploy on-site personnel to include expense management coordination, and wireless helpdesk including BES support.
Results
Solutions provider lowered the total cost of operations for the customer by reducing cost overages and billing errors and providing greater control and visibility into the company's wireline and wireless spend.
Achieved hard dollar savings of $1.2 million with historic recoveries and ongoing program savings of over $2.1 million to date.
Lessons Learned
The company has gained greater control and visibility into consumption, allowing them to align their expenditures with the overall goals of the corporation.
This case study is provided by the ETMA member company, who are solely responsible for the content.