Workshop at March 24-25 Conference brings experts to help Industry leaders shape a future with a more diverse workforce.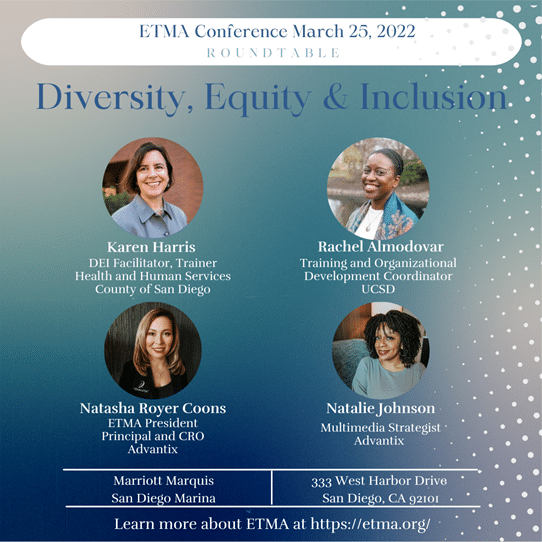 ETMA, the Enterprise Technology Management Association, members and guests will have an opportunity to learn strategies and actionable ideas in a workshop on Diversity, Equity, and Inclusion (DE&I) March 25 at the San Diego, California conference.
Martin Luther King III said, "Leadership starts with you." The ETMA conference brings together CEOs and Presidents from the industry that are well positioned to implement changes in their firms and act as catalysts to advance DEI in our industry. This will require a conscious, consistent effort to recruit a more diverse workforce.
The workshop will be lead by Natasha Royer Coons, the first woman, woman of color and person of Asian-American descent to be elected to ETMA President. She is also a principal and chief revenue officer at Advantix, and accomplished business leader, with more than 20 years of experience in the telecommunications industry. Natasha Royer Coons, said, "This workshop will be a 'roll up your sleeves', let's have a real talk about proven strategies and successful tactics. Our membership will not only gain insight but will leave with the ability to either begin, accelerate or enhance their DEI programs."
The workshop will also feature Rachel (Fuller) Almodovar, Training and Organizational Development Coordinator at UC San Diego who said "Diversity, Equity and & Inclusion supports employee engagement and strengthens employee retention in competitive markets." As a human resources professional with over 10 years of experience she will show participants how they must identify, develop, and connect talent at all levels within organizations. She is skilled in coaching, leadership development and project management with a rich background in the hospitality, higher-education, and health care industries.
The all-star panel also includes Natalie Johnson, Multimedia Strategist and Karen Harris, Staff Development Coordinator for the County of San Diego Health & Human Services Agency who said, "DEI is not only good for business, but it is essential to recruiting and retaining top talent. Creating an organizational culture where employees can bring their whole self to work fosters innovation and dedication. It begins with visible commitment from leadership and a willingness from them to be more vulnerable about their lived experiences." She has been working in the field of diversity, equity and inclusion for over 20 years as a facilitator, trainer, leader and change agent. Karen has worked on diversity and inclusion across all sectors including non-profit, business, academic and government.
During the pandemic, ETMA hosted virtual conferences and town hall meetings on this topic. Recordings and other Diversity Equity and Inclusion resources are available on the ETMA website within the resources section on Diversity and Inclusion. With COVID cases declining, this will be one of the first opportunities for members to meet in person to workshop this topic.
About ETMA
ETMA, the Enterprise Technology Management Association is a non-profit organization with approximately 50 members managing over $71 Billion in enterprise expenses. Its ongoing mission is to raise awareness, foster industry growth, improve the quality and value of solutions, and establish industry standards. Further, ETMA members subscribe to a Code of Ethics, which clearly establishes standards and differentiates their level of commitment to their clients. ETMA does not sell consulting services or solutions.
Members provide solutions for enterprises in: Technology Management, Managed Services, Expense Management, Telecommunications Management, Telecom Expense Management (TEM), Mobile Expense Management, Managed Mobility Services (MMS), Mobile Device Management MDM and Enterprise Mobility Management (EMM) solutions.
Learn more about ETMA online at http://etma.org
Twitter: JoinETMA
LinkedIn Group: https://www.linkedin.com/groups/12094974